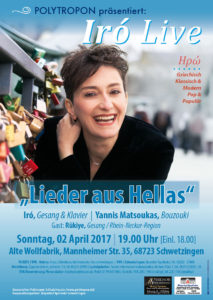 April 2, 2017
Schwetzingen, GER
As part of her short tour in Germany, IRO –accompanied by bouzouki soloist Yannis Matsoukas (Mikis Theodorakis orchestra)– is coming for the first time to Schwetzingen. The programme will include both classic and contemporary Greek songs by composers such as Hadjidakis, Theodorakis, Xarhakos, Spanos, Kraounakis, as well as the artist's own hits.
---
Iró ist eine exzellente Sängerin und Pianistin, sie repräsentiert eindrucksvoll die zeitgenössische Musikszene in Hellas. Iró kommt am 2. April 2017 nach Schwetzingen in die Alte Wollfabrik und interpretiert Lieder von bedeutenden griechischen Komponisten sowie eigene Lieder und Kompositionen.
Das Programm "Lieder aus Hellas" besteht aus Liedern von M. Hadjidakis, M. Theodorakis, Y. Spanos, St. Xarchakos, St. Kraounakis, St. Korkolis und eigenen Songs. Mit von der Partie ist auch der Bouzoukivirtuose Yannis Matsoukas, Mitglied des "Mikis Theotorakis" Populär Orchesters, und als Gast die junge Sängerin Rükiye aus der Rhein-Neckar Region.
TICKETS: 20,- € / 14,- (erm.) | AK 22,- € / 16,- € (erm.)
Vorverkauf | Schwetzingen: Mayerhof Apotheke Tel. 06202-21808
Ludwigshafen: Tourist-Information Ludwigshafen, Berliner Platz 1, Tel.: 0621-512035, -36
Heidelberg: Zigarren Grimm, Sofienstr. 11, Tel.: 06221-20909
Reservierung/VVK/Veranstalter: tickets@polytropon.de, Mobil: 0179-6913405
www.polytropon.de