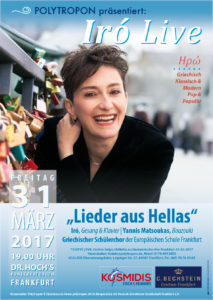 March 31, 2017
Frankfurt
After a successful concert in November 2015, IRO is returning to Frankfurt, this time accompanied by bouzouki soloist Yannis Matsoukas (Mikis Theodorakis orchestra) and a choir of Greek pupils of the European School Frankfurt. The programme will include both classic and contemporary Greek songs by composers such as Hadjidakis, Theodorakis, Xarhakos, Spanos, Kraounakis, as well as the artist's own hits. And, of course, a series of beautiful melodies sung by talented young children.
————–
Iró ist eine exzellente Sängerin und Pianistin und repräsentiert eindrucksvoll die zeitgenössische Musikszene in Hellas. Sie kehrt am 31. März 2017 wieder nach Frankfurt für ein Konzert beim Dr. Hoch´s Konservatorium zurück und wird wieder ihr Publikum wie im November 2015 durch ihre Interpretationen verzaubern. Zum Programm gehören diesmal auch beliebte Lieder von Manos Hadjidakis, Mikis Theodorakis, Stavros Xarchakos und anderer griechischen Komponisten, sowie eigene Lieder und Kompositionen.
Am 31. März 2017 präsentiert Iró das Musikprojekt "Lieder aus Hellas" unter der Beteiligung des Chors der griechischen Schüler der Europäischen Schule Frankfurt. Mit von der Partie ist diesmal der Bouzoukivirtuose und Mitglied des "Mikis Theotorakis" Populär Orchesters, Yannis Matsoukas.
Hoch Conservatory
Sonnemannstraße 16, 60314 Frankfurt am Main, Germany
TICKETS: 20,- € / 14,- (erm.) | AK 22,- € / 16,- € (erm.)
Vorverkauf / Veranstalter: tickets@polytropon.de, Mobil: 0179-6913405
SCALIDIS Übersetzungsbüro, Leipziger Str. 27, 60487 Frankfurt, Tel.: 069-70760965