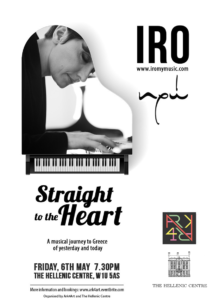 May 6, 2016
London, GBR
Details
Time
: 19:30 in UTC+01
Venue
: The Hellenic Centre
Address
: 16-18 Paddington Street, Marylebone
Zip
: W1U 5AS
Contact Website
:
http://www.helleniccentre.org
Iró is coming to London for the first time, bringing along her voice, a piano and many beloved melodies. On the 6th of May, the awarded Greek singer and pianist will be taking us on a musical journey aiming "Straight to the heart". Music is an element that unites people beyond borders and national considerations. Iró wishes to bring Greeks and friends of Greek culture together around classic songs of world famous composers, such as Manos Hadjidakis, Mikis Theodorakis and Mimis Plessas, songs that not only reflect but have also shaped modern Greek cultural identity. Iró will also be singing some of her own greatest hits, together with great songs of contemporary Greek artists and composers, specially selected to create the cozy atmosphere of a group of good old friends.
Organised by Ark4Art and The Hellenic Centre.
This concert is part of The Hellenic Centre's Easter Celebrations and admission includes a glass of wine and a red egg for everyone.